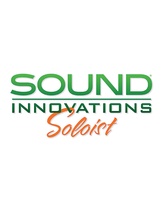 Weaver's Waltz (Sound Innovations Soloist, Violin)
Digital Sheet Music - Download PDF / Print On-Demand
Arrangement:
Solo & Small Ensemble
COMPOSER(S):
Doug Spata
Description:
Weaver's Waltz by Doug Spata is a great, approachable piece for younger students who are ready to take on a solo! Using easy rhythms, lots of repetition, and common scale and arpeggio patterns, this is a great way to show off a beginner's skills. Students will also appreciate the sunny G major style and the easy-to-follow piano accompaniment. This cheerful little piece is a great way to build confidence in young players!

This piece is part of the Sound Innovations Soloist series. SI Soloist includes original and creative solos that will help your students become strong, independent musicians. These solos provide valuable performance and practice opportunities from fresh, new voices and trusted composers.

What makes SI Soloist unique:
* Preparatory Exercises are provided to support the skills needed for each solo.
* Sound Advice for each exercise and solo provides tips for performance and technique.
* The diverse selection of composers presents a variety of musical styles.

An exclusively digital title---available for interactive practice through MakeMusic Cloud or print-on-demand through totalsheetmusic.com, alfred.com, or your favorite retailer.
Sample Audio:
Pages:
8
Item #:
00-PS-0016628