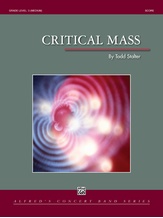 Critical Mass: (wp) B-flat Tuba T.C.
Digital Sheet Music - View Online and Print On-Demand
View full set
Description:
Critical mass is a scientific term that refers to the smallest amount of fissile material needed to sustain a nuclear chain reaction. This work begins with an explosion of sound, and then launches forward through small, ever-growing melodic fragments that expand outward and upward. (2:35) This title is available in SmartMusic.
Sample Audio:
Pages:
0
Item #:
00-PC-0014591_wpTBBTC