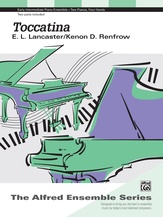 Toccatina - Piano Duo (2 Pianos, 4 Hands)
Digital Sheet Music - View Online and Print On-Demand
Arrangement:
Piano Duets & Four Hands
COMPOSER(S):
E. L. Lancaster, Kenon D. Renfrow
Description:
Written for "piano duo" which is 2 pianos and 2 performers, each pianist's part of this lively piece may also be performed as a solo! It is composed in D-minor, cut time, and is to be played "fast." There are staccato touch, drop-roll phrasing, and extreme shifts in dynamics. Two copies of the music are included in this one item. A Federation Festivals 2016-2020 selection. A Federation Festivals 2020-2024 selection.
Level:
Early Intermediate
Pages:
7
Item #:
00-PB-0000828