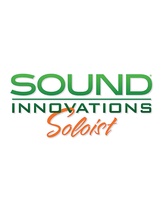 Time Twist (Sound Innovations Soloist, Tuba)
Digital Sheet Music - View Online and Print On-Demand
(PDF Download Not Included)
Arrangement:
Solo & Small Ensemble
COMPOSER(S):
Loreta Fin
Description:
Time Twist is a jubilant violin solo and uses the same rhythm used in the song "America," from Leonard Bernstein's West Side Story. It alternates meter from 6/8 to 3/4. The composer, Loreta Fin, has always loved this rhythmic interplay and has used it in several of her works for string orchestra. It is vital to feel the pulse and understand whether the notes are grouped in simple or compound time. Be sure to keep the bow even on both strings in the double stops. Take care to subdivide the dotted rhythms in the short major section and play the quarter notes precisely.

This piece is part of the Sound Innovations Soloist series. SI Soloist includes original and creative solos that will help your students become strong, independent musicians. These solos provide valuable performance and practice opportunities from fresh, new voices and trusted composers.

What makes SI Soloist unique:
* Preparatory Exercises are provided to support the skills needed for each solo.
* Sound Advice for each exercise and solo provides tips for performance and technique.
* The diverse selection of composers presents a variety of musical styles.

An exclusively digital title---available for interactive practice through MakeMusic Cloud or print-on-demand through totalsheetmusic.com, alfred.com, or your favorite retailer.
Sample Audio:
Pages:
11
Item #:
00-PS-0016653