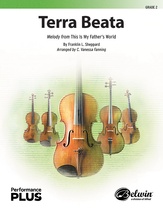 Terra Beata
Digital Sheet Music - Download PDF / Print On-Demand
Arrangement:
String Orchestra
COMPOSER(S):
Franklin L. Sheppard
ARRANGER(S):
C. Vanessa Fanning
Description:
Similar to life, Terra Beata, arranged by Vanessa Fanning, carries the listener through a series of pleasant and more intense experiences, ending victoriously. Written in the key of C, the melody begins calmly played by the first violins, accompanied by a flowing rhythmic pattern. Later, the violas offer the theme with a slightly more aggressive accompaniment. After moments of peace and tranquility, the pace of life steadily picks up. A fugue-like intensity propels the upper ensemble. The cello and bass sections enter, offering a sense of stability, resolve, and determination, unifying all voices. The ensemble then plays in unison and strength, with hints of previous themes. Terra Beata concludes with bold chordal structures to portray a resolute affirmation that, despite the turmoil and trials of life, this is "a beautiful world." (3:00)

The PerformancePlus+ series is an innovative addition to the ever-expanding MakeMusic Cloud interactive library. These engaging selections are presented with educational resources designed to enrich the rehearsal process and create outstanding performances. Including:
Assignment, recording, and assessment tools within MakeMusic Cloud
Piece-specific exercises focused on skills and techniques
Printable sheet music (with a standard MakeMusic Cloud subscription)
Educational tips and suggestions to support learning
Rights to perform in a live or virtual setting
An exclusively digital title---available for interactive practice through MakeMusic Cloud or printable PDF at alfred.com.
Sample Audio:
Level:
2 (Level)
Grade:
(2)
Total Pages:
82
Item #:
00-PK-0008838