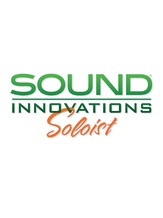 Tango Adagietto (Sound Innovations Soloist, Violin)
Digital Sheet Music - View Online and Print On-Demand
(PDF Download Not Included)
Arrangement:
Solo & Small Ensemble
COMPOSER(S):
Deborah Baker Monday
Description:
Tango Adagietto is an instrumental solo by Deborah Baker Monday. The popular Argentinian partner dance has been the inspiration for many composers in many genres since it emerged ca. 1880. It has all the articulations and dynamics to give it the "spice" it needs for the style. Ms. Monday used the term "adagietto" in the title not only because it has a nice ring to it, but also because it represents the tempo for the piece. "Adagietto" is slightly faster than "adagio" and the composer thought it might imply a lighter feel than some tempo markings. Exercises are provided that offer great preparation for rhythms, bowings, and the various forms of the G minor scale. Have students listen to other versions of a tango so they get a true sense of how to interpret this piece.

This piece is part of the Sound Innovations Soloist series. SI Soloist includes original and creative solos that will help your students become strong, independent musicians. These solos provide valuable performance and practice opportunities from fresh, new voices and trusted composers.

What makes SI Soloist unique:
* Preparatory Exercises are provided to support the skills needed for each solo.
* Sound Advice for each exercise and solo provides tips for performance and technique.
* The diverse selection of composers presents a variety of musical styles.

An exclusively digital title---available for interactive practice through MakeMusic Cloud or print-on-demand through totalsheetmusic.com, alfred.com, or your favorite retailer.
Sample Audio:
Pages:
11
Item #:
00-PS-0016644