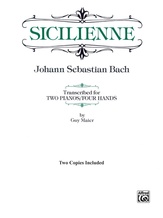 Sicilienne - Piano Duo (2 Pianos, 4 Hands)
Digital Sheet Music - View Online and Print On-Demand
Arrangement:
Piano Duets & Four Hands
COMPOSER(S):
Johann Sebastian Bach
ARRANGER(S):
Guy Maier
Description:
Arranged by Guy Maier for two performers at two separate pianos, this famous and beautiful piece is transcribed from the 2nd movment of Bach's second flute sonata. Originally published in 1924, this arrangement features a gentle, flowing sixteenth note accompaniment and melodic duties shared nicely between the two parts. Two copies are included. A Federation Festivals 2016-2020 selection. A Federation Festivals 2020-2024 selection.
Level:
Late Intermediate
Pages:
4
Item #:
00-PB-0000798