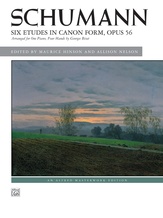 Schumann: Six Etudes in Canon Form, Opus 56 - Piano Duet (1 Piano, 4 Hands)
Digital Sheet Music - View Online and Print On-Demand
Arrangement:
Piano Duets & Four Hands
COMPOSER(S):
Robert Schumann
ARRANGER(S):
Georges Bizet
EDITOR(S):
Maurice Hinson, Allison Nelson
Description:
In 1845, Robert Schumann embarked on an intense course of contrapuntal studies. This led him to rent a pedalboard attachment for his piano, inspiring him to write pieces specifically for pedal piano, including these etudes. The great French composer Georges Bizet arranged the Six Etudes in Canon Form, Op. 56 for one piano, four hands. These etudes are not simply technical finger exercises like Hanon or Czerny, but true works of art like the Chopin etudes. They make wonderful music while working the muscles of the hands and fingers. The Etudes Nos. 1, 2, and 4 are Federation Festivals 2016-2020 selections. A Federation Festivals 2020-2024 selection.
Level:
Late Intermediate / Early Advanced
Pages:
47
Item #:
00-PB-0000618