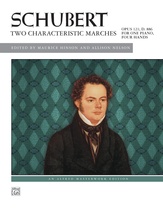 Schubert: Two Characteristic Marches, Opus 121, D. 886 - Piano Duet (1 Piano, 4 Hands)
Digital Sheet Music - View Online and Print On-Demand
Arrangement:
Piano Duets & Four Hands
COMPOSER(S):
Franz Schubert
EDITOR(S):
Maurice Hinson, Allison Nelson
Description:
Franz Schubert was one of the most prolific composers of ensemble piano music, and these two marches demonstrate his mastery at writing for one piano, four hands. The Two Characteristic Marches, Op. 121, were composed in 1826 and are the only marches that Schubert wrote for piano duet that are in 6/8 meter. Both marches are in C major and are scherzo-like in mood, revealing Schubert's fondness for sudden dynamic changes, his musical wit, and his fine melodic writing. A Federation Festivals 2020-2024 selection.
Level:
Advanced
Pages:
43
Item #:
00-PB-0000610