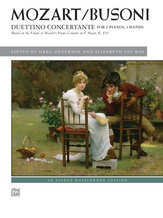 Mozart/Busoni: Duettino concertante: Based on the Finale of Mozart's Piano Concerto in F Major, K. 459 - Piano Duo (2 Pianos, 4 Hands)
Digital Sheet Music - View Online and Print On-Demand
Arrangement:
Piano Duets & Four Hands
COMPOSER(S):
Ferruccio Busoni
EDITOR(S):
Elizabeth Joy Roe, Greg Anderson
Description:
Ferruccio Busoni's Duettino concertante for two pianos, four hands, is based on Mozart's Finale of Concerto No. 19 in F Major, K. 459, for piano and orchestra. Edited by the dynamic piano duo team of Anderson & Roe, this work is a brilliant example of Busoni's prowess as a transcriber as it retains the lightness and clarity of Mozart's textures while utilizing the resources of the modern piano. Metronome marks are editorial and ornaments are realized in footnotes. Fingerings, dynamics, and articulation have been supplemented by the editors. Two copies required. A Federation Festivals 2020-2024 selection.
Level:
Advanced
Pages:
36
Item #:
00-PB-0000595