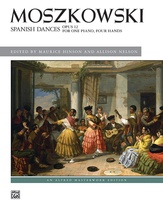 Moszkowski: Spanish Dances, Opus 12 - Piano Duet (1 Piano, 4 Hands)
Digital Sheet Music - View Online and Print On-Demand
Arrangement:
Piano Duets & Four Hands
COMPOSER(S):
Moritz Moszkowski
EDITOR(S):
Maurice Hinson, Allison Nelson
Description:
The Spanish Dances, Op. 12, are probably Moszkowski's most famous piano works. These five duets are beautifully conceived for the piano and have a winning appeal. They often sound more difficult than they are and lie well under the hands. This edition includes historical information, as well as helpful editorial fingering. All of the "Spanish Dances, Op. 12" are Federation Festivals 2016-2020 selections. A Federation Festivals 2020-2024 selection.
Level:
Advanced
Pages:
55
Item #:
00-PB-0000622