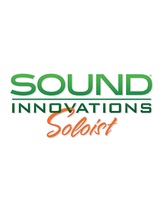 More Revelry (Sound Innovations Soloist, Violin)
Digital Sheet Music - View Online and Print On-Demand
(PDF Download Not Included)
Arrangement:
Solo & Small Ensemble
COMPOSER(S):
Deborah Baker Monday
Description:
More Revelry by Deborah Baker Monday is a fresh, exciting string solo with piano accompaniment. It is in 6/8 time and in the key of G major, but the tonality is G Dorian (lots of F naturals). It could actually be considered a rhythmic etude in 6/8 with a variety of bowings, as well as a left-hand etude using different forms of a G scale. The solo comes with preparatory exercises for rhythm/bowing and scale work created specifically for this piece. More Revelry is actually a sequel to another piece by Ms. Monday called Revelry. It was well-received and very popular for student performances and recitals so she chose to compose a second piece employing many of the elements of the original. If you would like to view and listen to Revelry, it is available through Luck's Music or any other music distributor.

This piece is part of the Sound Innovations Soloist series. SI Soloist includes original and creative solos that will help your students become strong, independent musicians. These solos provide valuable performance and practice opportunities from fresh, new voices and trusted composers.

What makes SI Soloist unique:
* Preparatory Exercises are provided to support the skills needed for each solo.
* Sound Advice for each exercise and solo provides tips for performance and technique.
* The diverse selection of composers presents a variety of musical styles.

An exclusively digital title---available for interactive practice through MakeMusic Cloud or print-on-demand through totalsheetmusic.com, alfred.com, or your favorite retailer.
Sample Audio:
Pages:
12
Item #:
00-PS-0016624