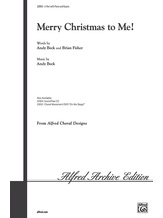 Merry Christmas to Me!
Digital Sheet Music - View Online and Print On-Demand
Arrangement:
Choral
COMPOSER(S):
Andy Beck, Brian Fisher
Description:
Listen up Mom, Dad, Grandma, and Santa Claus, 'cause we're singing our entire Christmas list in this up-tempo Broadway-style showtune. "I want a shiny trombone, a cellular phone, and stereo equipment in a room of my own." Complete with staging suggestions and a crazy kazoo interlude, it's a guaranteed hit for your holiday concert. A laugh-out-loud show-stopper! Perfect for young singers, and equally effective as a comic feature for older groups. Consider the fully orchestrated SoundTrax CD for even more fun! Featured on the new staging DVD/Video "On the Stage!" (DVD #23037, Video #23129).
Sample Audio:
Voicing:
2-Part
Pages:
11
Item #:
00-PO-0006531