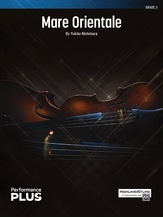 Mare Orientale
Digital Sheet Music - View Online and Print On-Demand
(PDF Download Not Included)
Arrangement:
String Orchestra
COMPOSER(S):
Yukiko Nishimura (ASCAP)
Description:
Mare Orientale is the name of one of the lunar mares. "Mare" means the "sea". In this case, its not a sea---it is a crater! Mare Orientale means the "eastern sea" in English. It is said that the crater is difficult to see from the Earth because it exists on the opposite side of the moon from what we can see. This fact is so mysterious and inspired me to write this piece, imagining the scenery that cannot be seen from the earth. (3:30)

The PerformancePlus+ series is an innovative addition to the ever-expanding SmartMusic interactive library. These engaging selections are presented with educational resources designed to enrich the rehearsal process and create outstanding performances. Including:
Assignment, recording, and assessment tools within SmartMusic
Piece-specific exercises focused on skills and techniques
Printable sheet music (with a standard SmartMusic subscription)
Educational tips and suggestions to support learning
Rights to perform in a live or virtual setting
An exclusively digital title---available for interactive practice through SmartMusic or print-on-demand through totalsheetmusic.com.
Sample Audio:
Level:
3 (Level)
Grade:
(3)
Total Pages:
68
Item #:
00-PK-0008576