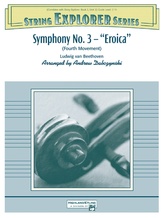 Symphony No. 3 - Eroica (4th Movement)
Digital Sheet Music - View Online and Print On-Demand
Arrangement:
String Orchestra
COMPOSER(S):
Ludwig van Beethoven
ARRANGER(S):
Andrew H. Dabczynski
Description:
This arrangement from one of the greatest symphonies of all time captures the rhythmic essence and delightful melodic craftsmanship of Ludwig van Beethoven. All orchestra members will develop cultural literacy as they learn the famous German "country dance" melody. The movement's thematic variations and extended coda remain true to Beethoven's original ideas, and provide excellent opportunities for performers to focus on counting and ensemble skills. Here's a wonderful classic that can stand as the core of any rehearsal or concert.
Sample Audio:
Level:
2.5
Grade:
(2.5) (Grade)
Total Pages:
84
Item #:
00-PK-0000690