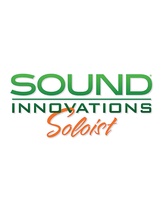 Go with the Flow (Sound Innovations Soloist, String Bass)
Digital Sheet Music - View Online and Print On-Demand
(PDF Download Not Included)
Arrangement:
Solo & Small Ensemble
COMPOSER(S):
Loreta Fin
Description:
Go with the Flow was written by Australian composer, Loreta Fin. She lives in Brisbane, the Capital City of the state of Queensland. This piece was inspired by the Brisbane River, which snakes its way through the city and is the longest river in South East Queensland. It was named by the first European to explore the river in 1823 and is situated right next to the school that the composer taught in for over 35 years. This piece focuses on dotted rhythms, smooth bow changes, and legato slurs. The accompaniment represents the flowing currents of the river and the solo part depicts the elegant vessels that glide up and down the river each day. Be sure to subdivide the dotted quarter notes and connect the bow changes smoothly.

This piece is part of the Sound Innovations Soloist series. SI Soloist includes original and creative solos that will help your students become strong, independent musicians. These solos provide valuable performance and practice opportunities from fresh, new voices and trusted composers.

What makes SI Soloist unique:
* Preparatory Exercises are provided to support the skills needed for each solo.
* Sound Advice for each exercise and solo provides tips for performance and technique.
* The diverse selection of composers presents a variety of musical styles.

An exclusively digital title---available for interactive practice through MakeMusic Cloud or print-on-demand through totalsheetmusic.com, alfred.com, or your favorite retailer.
Sample Audio:
Pages:
10
Item #:
00-PS-0016607