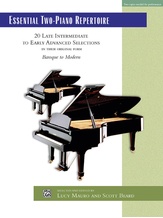 Essential Two-Piano Repertoire: 20 Late Intermediate to Early Advanced Selections in Their Original Form - Piano Duo (2 Pianos, 4 Hands)
Digital Sheet Music - View Online and Print On-Demand
Arrangement:
Piano Duets & Four Hands
EDITOR(S):
Scott Beard, Lucy Mauro
Description:
Two-piano music helps develop listening skills, technique, rhythmic control, and overall musicianship. A wide range of genres, countries, and composers are represented in this edition, including Arensky, Bach, Brahms, Hahn, Mozart, Schumann, Soler, and others. Detailed discussions of the composers, a history of two-piano repertoire, beautiful engraving, and fingering suggestions enhance this enjoyable edition. The pieces are presented in score form, with Piano I and Piano II parts both appearing on the same page; therefore, two copies are needed for performance. A Federation Festivals 2020-2024 selection.
Level:
Late Intermediate / Early Advanced
Pages:
144
Item #:
00-PB-0000648