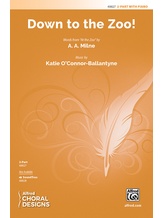 Down to the Zoo!
Digital Sheet Music - View Online and Print On-Demand
Arrangement:
Choral
COMPOSER(S):
Katie O'Connor-Ballantyne
LYRICIST(S):
A. A. Milne
Description:
Have you ever heard of a bear with wings? Or a biffalo-buffalo-bison? How about a wallaboo? A. A. Milne, best-known as the author of Winnie the Pooh, penned this playful poem about amusing animals, both real and imagined, at a zany zoo. This clever children's choral offers plenty of musical moments (including independent counterlines and logical 2-part harmonies) in between giggles. Perform with a light, bright tone and crisp consonants on the patter-like words. Two likely results: hilarious rehearsals and a roaring crowd!
Sample Audio:
Voicing:
2-Part
Pages:
10
Item #:
00-PO-0006631