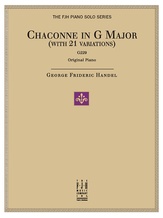 Chaconne in G Major, G 229
Digital Sheet Music - Download PDF / Print On-Demand
Arrangement:
Piano
COMPOSER(S):
George Frideric Handel
EDITOR(S):
Edwin McLean
Description:
This masterpiece of the theme and variation form is one of Handel's best-known works for keyboard. It opens with a heroic theme and variations in G major, followed by a poignant, lyrical section of variations in G minor, and it concludes with a decisive return to G major.
A brilliant, yet accessible recital piece, newly edited and engraved for the modern performer.
Pages:
11
Item #:
98-DPS1028